Protect your business
Because of increased reliance on computing and the Internet, all businesses are more vulnerable to malware and cybercrime attacks against their computers. Valuable business information, online financial transactions and sensitive data are all at risk.
Smaller businesses face the same security risks as large organisations, but often don't have the time or resources to configure and manage complex IT security solutions. Kaspersky Small Office Security delivers business-grade protection technologies that are designed to be simple to install, configure and run. The solution protects your Windows-based PCs & file servers and Android smartphones and tablets… to safeguard your online banking transactions, your business data and the information your customers entrust to you.
World-Class Security – multi-layered protection defends your business against the latest malware
Internet Protection – secures your business against phishing attacks and exploits
Mobile Device Security – anti-malware and anti-theft technologies protect Android devices
Online Banking Protection – Safe Money technology adds another layer of security for online banking
Business Data protection – data encryption and local / online backup secure your vital business data, even if a device is lost, stolen or corrupted
Password Manager – generates strong passwords and helps users to maintain security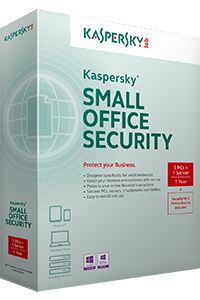 300.000 VNĐ

Tải về dùng thử
Lưu ý: Với thẻ bản quyền 3PCs bạn phải kích hoạt cho 3 máy tính trong cùng 1 ngày. Nếu kích hoạt 3 máy tính không cùng một ngày thì những máy còn lại sẽ bị trừ dần thời gian sử dụng tương ứng với máy tính đã kích hoạt đầu tiên.

Help
Which product is right for your business?
How many PCs do you have?
Up to 5
Up to 25
10+
Are your computers networked?
No
Yes
Yes
Do you have any non-Windows PCs on your network? (Linux, etc.)
No
No
Yes
Do you have a dedicated IT person in your organization?
No
No
Yes
Do you want to centrally manage antivirus protection centrally?
No
Yes
Yes
Do you have a file server on your network?
No
Yes
Yes
Do you have a mail or proxy server on your network?
No
No
Yes
Do you want protection for Android tablets and smartphones?
Yes*
Yes
Yes
Do you want centralised protection for Android, iOS, Windows Phone, Windows Mobile, BlackBerry and Symbian mobile devices?
No
No
Yes
Are you planning to extend your business IT and buy additional PCs in the near future?
No
Yes
Yes
We recommend you purchase:
Kaspersky PURE 3.0, Kaspersky Internet Security, or Kaspersky Anti-Virus
Kaspersky Small Office Security is right for your business
Buy it now
One of the tiers ofKaspersky Endpoint Security for Business(choose from Core, Select or Advanced)
Yêu cầu hệ thống
PCs – desktops and laptops
Microsoft Windows 8.1 (32-bit and 64-bit*)
Microsoft Windows 8 / Windows 8 Pro (32-bit and 64-bit*)
Microsoft Windows 7 Home Premium / Professional / Ultimate (32-bit and 64-bit*) SP1 or higher
Microsoft Windows Vista Home Basic and Premium / Business / Enterprise / Ultimate SP2 or higher (32-bit and 64-bit*)
Microsoft Windows XP Home / Professional (32-bit) SP3 or higher / Professional (64-bit) SP2 or higher
Windows file servers
Microsoft Windows Server 2012 R2
Microsoft Windows Server 2012 Foundation / Essentials / Standard
Microsoft Windows SBS 2011 Standard SP1 or higher
Microsoft Windows SBS 2011 Essentials
Microsoft Windows SBS 2008 Standard x64 Edition SP2 or higher
Microsoft Windows Server 2008 R2 Foundation / Standard SP1 or higher
Required for all PC and file server installations
800 MB free space on the hard drive
CD-ROM or DVD-ROM for installation of the program from CD
Microsoft Internet Explorer 8 or higher
Microsoft Windows Installer 3.0 or higher
Internet access
Android mobile devices
Android 2.3 – 4.3
Minimum screen resolution: 320 x 480
*Some product features only available on 32-bit operating systems.